Popular adult OnlyFans creator Roxi Keogh has conducted a Twitter interview for her fans. Don't worry if you missed it. We have shared the top questions and answers!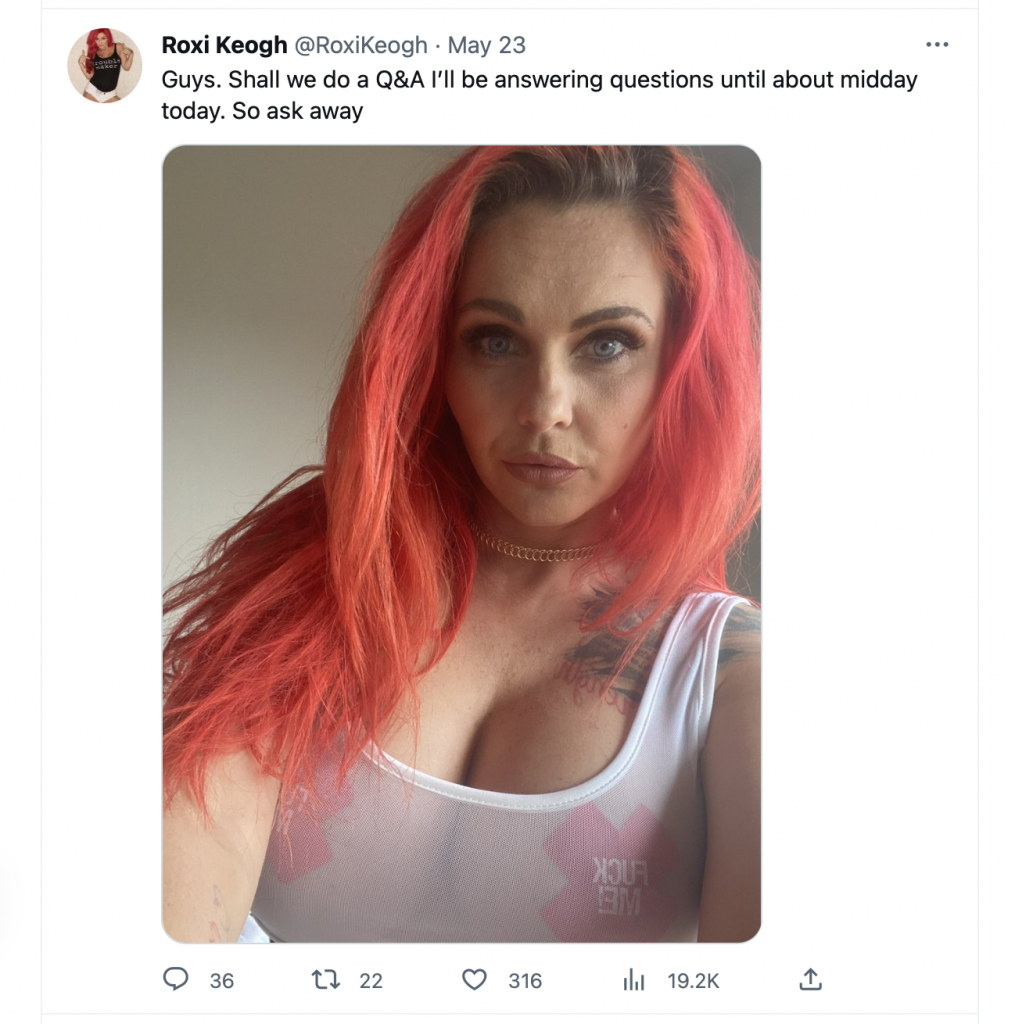 Who is Roxi Keogh?
Roxi Keogh has been a prominent adult performer in the industry for over a decade. She began her career working with popular platforms such as Playboy TV and XpandedTV. The British performer has also worked with Babestation. As of 2023, the best place to find the stunning redhead is OnlyFans, where you can sub to her exclusive content for as little as $3.85 a month.
Roxi Keogh Twitter Interview
In this Twitter interview with Roxi Keogh, we discover the wildest things she's done on a night out, the last time she did "anal," and even her opinion on boxing. We even see a heater moment when Roxi discusses football. We have highlighted the best Q&As below:
---
When are you doing anal has got to be out there as the most asked question, right? See how I deftly slipped that one in? 🥷 😜
Lol only get my arse fucked in my personal life, hun x
---
What do you prefer? A Veiny shaft or a smooth one?
I don't mind as long as it's big and fat
---
Have you ever done sploshing?
No hun x
Would you ever try?
Yeah, why not.
---
If they get it sorted, who wins between AJ, Fury, Wilder, and Usyk?
Wilder beats AJ, and Usyk beats them both. Fury is too big for Usyk to close down. So I'd say Fury, Usyk, Wilder, and AJ, in that order.
---
If you could work with anyone in the industry, who would it be?
Too many to name.
---
Do you ever tour the UK….particularly up north in Cumbria 😘
Looking gorgeous, Roxi x
I'm happy to go anywhere if there's paid work there lol x
---
Any plans for a visit to Dubai?
Not unless you are paying for me to come, lol
---
What is the youngest you've blown? X
18-year-old in a nightclub toilet last year. It's on my OnlyFans. Go check it out.
---
Are you available for fan meets?
It depends on what you want, lol. I do dinner dates and nights out, if that's what you mean.
---
Would a 4″ penis sexually satisfy you? 😘
The only thing that's 4 inches that would make me happy is a credit card 💳
---
What's your favorite kink to play with?
Not sure. I love being a hotwife. Married but available.
---
What's the wildest thing you did on a night out x
Lol fuck knows. I don't have many limits.
---
Would you do a catfight?
Possibly.
---
Hay hun have you ever thought about going bigger with your boobs? X
Yeah. I just need someone generous enough to pay for them x
---
Can you start doing facials? 🙏💦🤣
Pay me enough, then.
---
Will you ever get married again?
Who knows.
---
Has there been anyone that you wanted to hang out with because they seemed interesting?
Yes, of course. I made many friends from my work, and we stay in touch and meet regularly. @gbhoney3 is like my twin. We do EVERYTHING together x
---
Will you do more professional videos(studio/network sites) instead of OnlyFans content?
Doubt it hun.
---
Do you regret anything that you have done?
There are things I'd change, but I don't have any regrets. Maybe when I first started, I was very naive with people.
---
Are you planning more tours in the future and doing a Snapchat premium? And also my second question Is, have you found your phone yet? Xx
Yes, hun. I'll be returning to Benidorm in a few weeks and doing Snapchat again, and no. It's been found in Italy but turned off x
---
But it wasn't all smiles and laughs. There are three things you should never bring up on Twitter: politics, religion, or football.