The Short Answer: OnlyFans has 2M content creators making it a very competitive business. There are several ways to get ahead of your competitors and generate traffic to boost your followers and subscribers, including Social Media Marketing, Reddit, Telegram, blogs, and SEO. You can also purchase premium advertisement space and watermark your content.
Summary: OnlyFans is not a get rich quick scheme; although riches are possible, a ton of work is required to get there, like in any industry. We have listed the top 10 best OnlyFans advertisement and promotion methods. Start marketing now and boost your account income.
Quick Scope
OnlyFans launched in 2016 and has since sent tidal waves throughout the industry as we know it. It has undoubtedly changed the industry, opening the door to millions of content creators and making it a comfortable place to be.
With many creators becoming millionaires selling content, there is undoubtedly massive money on the popular subscription site. However, the only downfall is that it generally requires a large social following or marketing skills. The average creator on OnlyFans is thought to earn just $180.00 per month. This is far below the minimum salary and unworkable.
Whether you're an amateur with slim to no following, marketing skills, or a pro content creator who wants to continue flourishing, we have listed the top 10 best ways to promote your OnlyFans account in 2022. While some of the methods require investment, many are FREE. Take a read of this article and end your year in the millionaires club. 🤑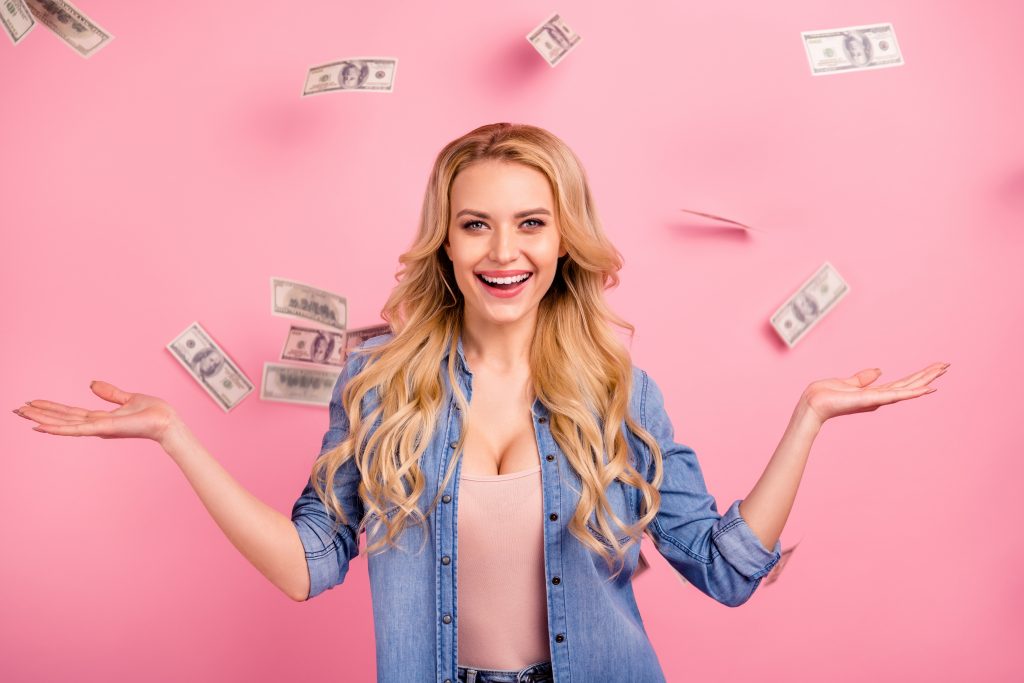 Best FREE Ways To Promote Your OnlyFans Account
Many people are starting with zero budget or maybe scared to risk capital they don't have without guaranteeing an ROI (return on investment).
Luckily, there are plenty of FREE and practical ways to promote your OnlyFans account to get more subscribers.
Promote Your OnlyFans On Social Media
Social media is the most common way to promote your OnlyFans account, and OF was essentially built to monetize such a following, so it works great.
If you're serious about your OnlyFans career, it is worth investing some more time to build a solid following on social media. You can easily monetize an organic following and convert them onto your OnlyFans. The most common social media accounts for such content include Twitter and Instagram. Twitter is adult-friendly, making it the number one place to be; Instagram, on the other hand, is a little more sensitive, so be careful of what content you post there.
Remember, engage and post consistently and ensure that your content is high quality. You're competing with 2 million other creators, after all.
Promote Your OnlyFans On Reddit
Reddit is essentially a forum that hosts forums. It's the largest and most dominant forum globally, with more than 50M monthly users. Reddit provides another excellent and FREE method of promoting your OnlyFans account. This mega platform is widely used among content creators, allowing them to go viral when posting in front of the right audience.
Mrs. Poindexter is a prominent content creator that earns six figures monthly on OnlyFans. Her career kick-started on Reddit after one of her images shared by her husband went viral. You can be the next OnlyFans Reddit success story, but only if you're on there.
How To Boost Your OnlyFans Using Telegram?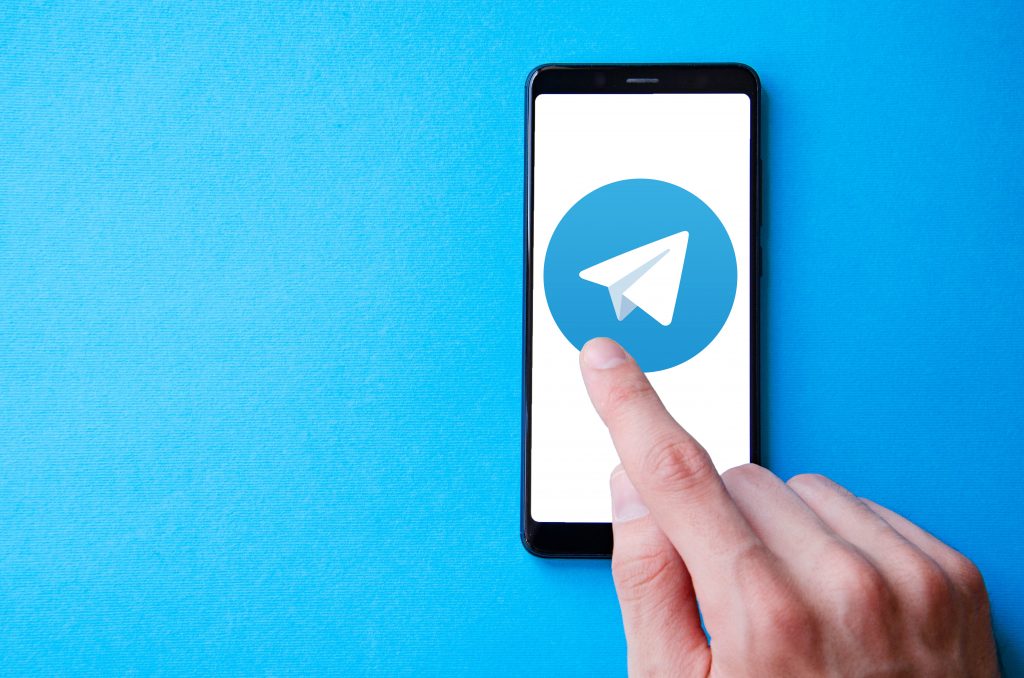 Telegram is a popular instant messaging application. The use of promoting your OnlyFans on there isn't widely known but is becoming more popular now, as word and mouth spread.
For Telegram to work as an OnlyFans promotion, you'll need to be in the right group(s). The best way to find the right OnlyFans telegram group is to connect with other creators and get some recommendations.
Once in the right group, you can use Telegram for shout for shout. This can be very effective when used appropriately. A shout for shout generally works where you promote a content creator on your OnlyFans account for a set amount of time, and in return, they will do the same. Generally, only creators with a similar follow/subscriber count will work with you, but you can work with more prominent creators as you gain more traction.
Another effective and great way to promote your OnlyFans using Telegram is to get involved with group drops. Every so often, the administrator of the Telegram group will ask who wants to get involved in a drop. Everyone who agrees to get involved has to copy the message from the group admin, containing the username of all of the other creators taking part, and paste it into their OnlyFans group for the agreed amount of time. It would help if you were pretty active in the groups to see when drops occur.
Watermark Your Images & Videos For OnlyFans Promotion
You'll undoubtedly be promoting content to gain OnlyFans followers. These may be sexy images or videos. Whether unique or snippets from exclusive videos that can only be found via your OnlyFans. Whether you're promoting such content via your social accounts, or tube sites, make sure to watermark them so that your OnlyFans username is visible.
I'm sure that I don't need to tell you the risks involved with being a content creator or that the odds of you ending up on a leaked OnlyFans site are high. Sure, it would be better if this didn't happen, but at least by watermarking your content, you're getting the credit you deserve if/when it does occur.
How Can Webcam Models Advertise Their OnlyFans?
If you're a webcam model, then you have a significant advantage. You can easily advertise your OnlyFans account to your webcam traffic. Again, this can be done by watermarking your feed or placing a link somewhere on your profile. This is traffic that you don't need to work for, and these are generally organic viewers that are already interested in seeing you and possibly spending money. Done right without breaching the rules; this can be super effective.
Do Some Interviews; Blog Owners Love Them.
Owners of adult content blogs are always looking for webcam models and content creators to do exclusive interviews or similar type stuff. As it benefits them, they would rarely charge for this. You should take advantage of such advertisement and reach out to some high-traffic blogs that may want you to appear there. It is a quick, easy, and free OnlyFans advertisement.
Spamming Is Annoying, But It Can Work.
Nobody likes spammers, but there are many of them in such a competitive industry. How frequently have you seen girls post their OnlyFans links in the most random places? Sure, this isn't the most effective way of marketing, but it certainly helps.
If you look through OnlyFans blog articles, most of their comment sections are saturated in OnlyFans links posted by content creators. If you can't beat them, join them. Just be careful where you're spamming.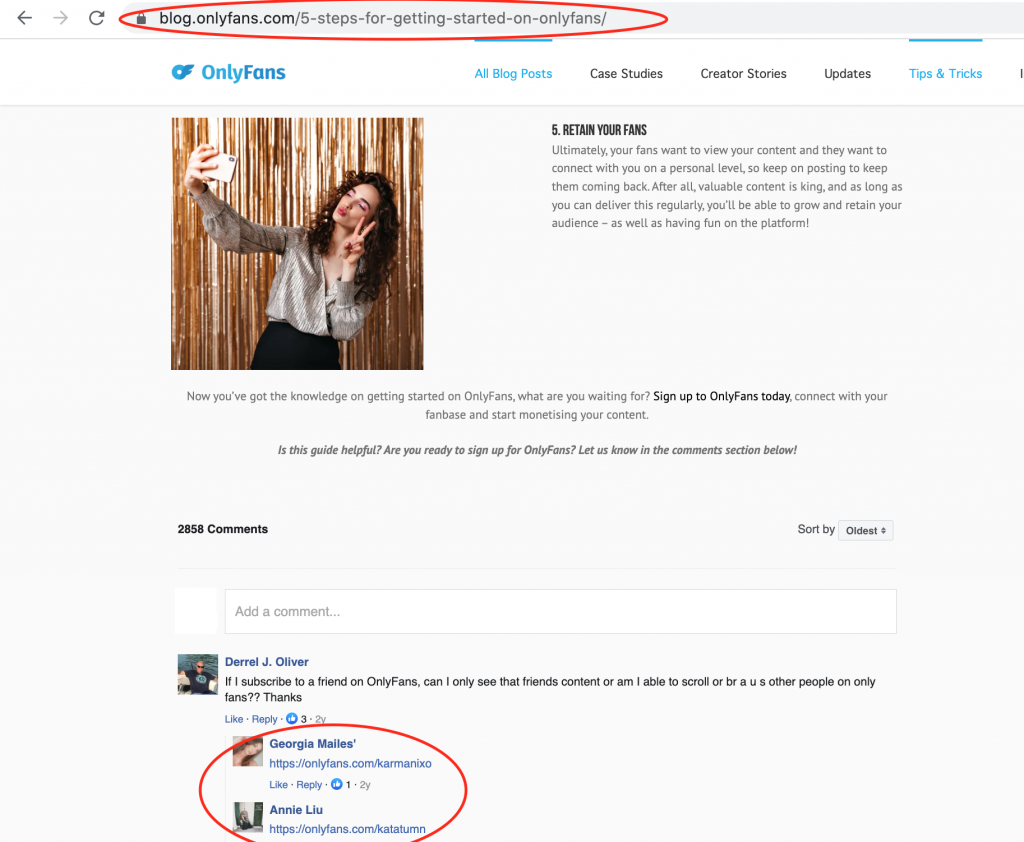 The Best Premium Ways To Promote Your OnlyFans
If you're someone starting an OnlyFans with a marketing budget, then great, you have an edge on 90% of creators.
No matter how big/small your budget is, you still need to ensure that you're investing it wisely to improve your chances of an ROI (return on investment). For example, let's say you have a $100.00 budget and charge a $10.00 per month subscription. If an advertisement spot costs $50.00 per month, you'll need to get five subscribers to ensure that you get your money back. Of course, you want to try and turn your customers into repeat subscribers, but to be safe, it's best to assume they are not.
Purchase Premium OnlyFans Advertisement
The fastest and most effective way to promote your OnlyFans account and gain new followers and subscribers would be to purchase premium advertisement placements. You need to budget for this and do your research to ensure that you're getting an ROI.
You could see a massive increase in traffic and earnings overnight by purchasing clever, quality advertisements for your OnlyFans account.
You Can Rank Your OnlyFans Profile Higher On Google
I appreciate not everyone knows about SEO (Search Engine Optimization). Still, it's the most efficient and effective way of gaining new followers, as search engine traffic is super organic when targeting the right keywords.
Google favors OnlyFans pages relevant to OF questions, over a random blog, like ours, for example. If you type into Google "Best OnlyFans Accounts," you'll see an OnlyFans profile on the first page. This gets tons of traffic, as it's optimized for search engines using specific keywords.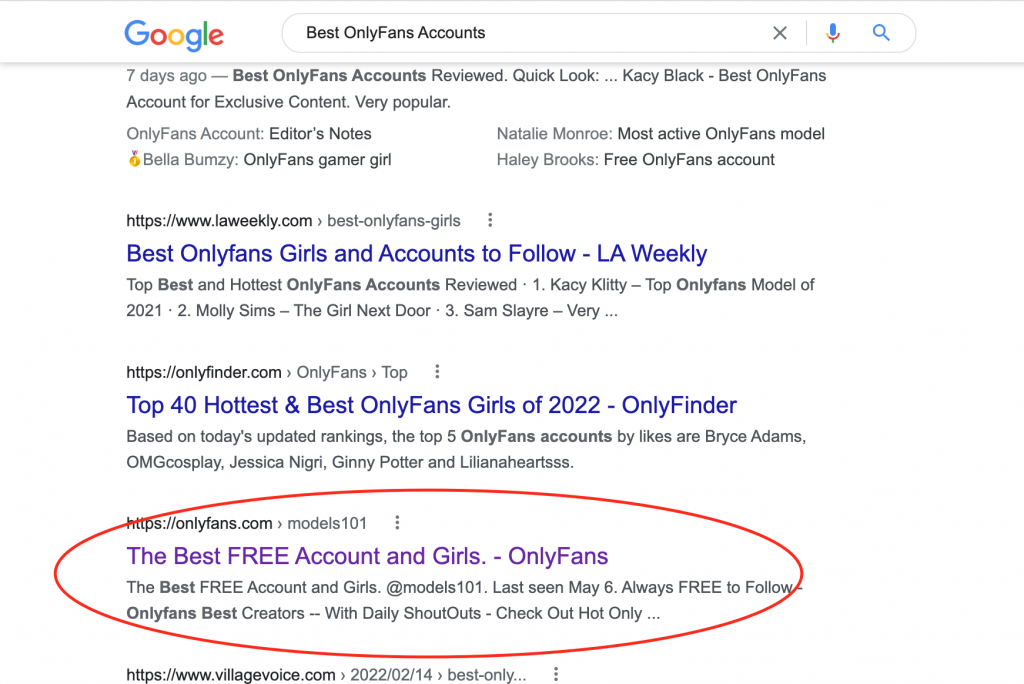 You can even build backlinks to your OF profile to gain more authority.
How Do I Get More Followers and Subscribers On OnlyFans?
It's one thing getting the traffic to your OnlyFans account; it's another thing getting that traffic to convert. The best way to convert your traffic and get more followers and subscribers on your OnlyFans is to ensure that your content is high quality and your profile description is selling. Use your OnlyFans about section to tell potential fans what they might get from subscribing to you and the following benefits. Make sure your primary images are sexy and enticing without giving away too much.
To keep them on as repeat subscribers, you need to ensure that you're posting regularly, certainly as often as you claim. Get wild with your content, and create unique and exciting concepts time and time again. Doing all of that will also help you get more likes, which show on your OnlyFans account and act as another enticement. To gain the platform's ultimate success, you need to work at every step, as they are equally important and assist in different ways.