Clips4Sale (C4S) is the OG in adult content creation, specifically the fetish world. Launched in 2003, C4S gave fetish creators a secure platform to sell their content. Despite newcomers questioning if Clips4Sale is safe and legitimate due to its very dated interface, rest assured they are very reputable and offer much value to clip artists.
In this Clips4Sale review, we take a look at what they have to offer for creators and the top alternative sites offering similar services.
Quick Scope
The Comprehensive Guide for Creators
1.1. Navigation, Interface, and Customer Support
1.2. Features for Creators
1.2.1. Content Formats
1.2.2. Creator Payout Information
1.2.3 Chargeback Protection
1.2.4. Additional Features
Similar Sites Like Clips4Sale
Clips4Sale Review Overview
| SERVICES | AVAILABILITY |
| --- | --- |
| CREATOR PAYOUT | 60% |
| PAYOUT METHODS | WIRE & CHECK |
| MINIMUM PAYOUT AMOUNT | $50 |
| PAYOUT FREQUENCY | MONTHLY (7TH) |
| MONTHLY TRAFFIC | 20 MILLION + |
| SECURE HOSTING | ✅ |
| WEBCAMS | ❌ |
| FANCLUB | ❌ |
| CLIP/VIDEO SALES | ✅ |
| IMAGE SALES | ✅ |
| INTERNAL EDITING | ✅ |
| FEMALE | ✅ |
| MALE | ✅ |
| COUPLES | ✅ |
| TRANS | ✅ |
| PRODUCERS | ✅ |
| GEO-BLOCKING | ✅ |
| REFERRAL PROGRAM | ❌ |
| AFFILIATE PROGRAM | ❌ |
Clips4Sale Review – The Comprehensive Guide for Creators
Whether you're already an amateur pornstar or entering the adult creation world for the first time, you may find much success on Clips4Sale. The doors are open to all creators, regardless of gender or location. They even allow producer accounts. This major platform attracts more than 20 million visitors monthly, so there is undoubtedly an opportunity to make a lot of money. 💰
C4S primarily serves the femdom (female domination) and fetish world. It covers almost every category imaginable, from the typical "foot fetish" and "blowjob" categories to niche fetishes such as "tickling," "farting," and "wrestling" categories. Whether you're recording a video of you painting your toes, clipping your nails, carrying someone over your shoulder, or showing off your belly button, there is undoubtedly an audience for everyone. 🦶
Navigation, Interface, and Customer Support
Clips4Sale is undoubtedly one of the least attractive amateur porn clip sites due to its very dated interface. Nonetheless, it's still straightforward to navigate yourself around. Once you have gone to the "Sign Up" page, click "I'm a Creator" and fill in the form to register. At some point during the registration process, you'll need to complete verification requirements. This requires you to submit your ID. Thankfully, C4S has excellent customer service and fast responses, so your documents should be reviewed quickly (typically within hours).
Navigating around your account is pretty self-explanatory, but if you get stuck, you'll notice a "Live Chat" button on the right side of your screen, which once again demonstrates the top-rated, fast support offered by C4S.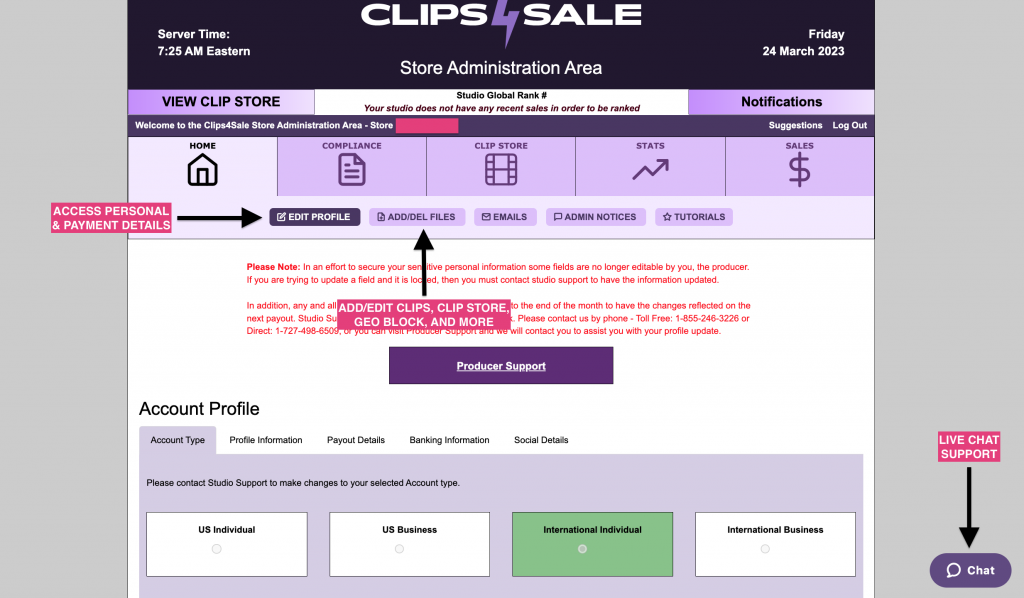 Features for Creators
Clips4Sale offers several valuable features for creators, making it an accessible site to sell on and grow your user base.
Multiple Content Sale Types
You can sell videos, photos, audio recordings, and even DVDs on this secure hosting website.
Creator Payouts
You have the option to be paid via Bank Wire transfers or Checks. The minimum payout amount is just $50, and payments are processed on the 7th of each month.
Chargeback Protection
Clips4Sale offers chargeback protection, so sell with peace of mind.
Other Features
Clips4Sale offers other features, such as internal video editing and GIF creation. Although these features are basic, they certainly help. In addition, they provide advertisement services to help increase your stats and sales. These services include Twitter integration and mass mailing. Your C4S store is fully customizable, meaning you can edit it to perfection based on your brand. Linking a custom domain to your store is often a great idea, as it can increase your click-through rate (CTR) and help with brand awareness.
Top 4 Best Similar Alternative Sites Like Clips4Sale
Although Clips4Sale is an excellent site, putting all your eggs in one basket is never recommended. Whether you're looking for a great alternative or want an additional site like Clips4Sale to distribute your content on more platforms. Below, we have listed popular competitors that offer similar features and services.
ManyVids
ManyVids is a popular platform that supports independent adult content creators by offering a marketplace for videos, photos, and live cam shows. With a diverse range of content and a strong emphasis on empowering creators, ManyVids is an excellent alternative to Clips4Sale.
IWantClips:
IWantClips is an adult content marketplace that offers a diverse range of videos, photos, and audio clips from independent creators. Like Clips4Sale, IWantClips supports creators and fosters a safe and inclusive user environment.
APClips:
APClips is a platform that provides a fresh and modern environment for independent adult content creators to sell and share their content. With a wide range of content and a user-friendly interface, APClips shares many similarities with Clips4Sale.
Modelhub:
Modelhub, a part of the Pornhub Network, allows independent adult content creators to sell their videos and photos. With a user-friendly interface and a commitment to supporting creators, Modelhub is another alternative for those seeking sites like Clips4Sale.
Clips4Sale Review: Conclusion
Clips4Sale is undoubtedly missing some essential features that modern-day creators crave. These features include affiliate/referral programs, fan clubs, and webcams. Monthly payouts with few payment options may also be a deterrent for creators. But despite this, Clips4Sale offers reasonable payouts and a massive audience that will almost guarantee you sales.
Clips4Sale is undoubtedly one of the most valuable clip sites online, so we highly recommend joining. Remember to check out the competitors listed above, as being on as many platforms as possible will help deliver success.